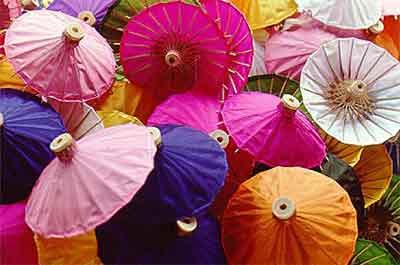 Chiang Dao Nest - Chiang Mai Tours - Discover Chiang Mai - City Temples / Doi Suthep Mountain Temple / Handicrafts / Khantoke Dinner / Night Bazaar.
A packed one day tour covering many of the highlights of Central Chiang Mai and it's immediate surrounds.
Highlights

- See two of the oldest temples in Chiang Mai
- Drive up to the highly revered and beautiful mountain temple Wat Doi Suthep
- Enjoy views of Chiang Mai from the mountain
- Great Thai / Northern Thai Lunch at Huan Huay Kaew restaurant
- Visit villages specialising in producing exquisite Northern Thai handicrafts
- See for your self how Celedon and Silk are made
- Watch the intricate decoration of the famous Thai umbrellas
- See craftsmen and women making beautifully detailed lacquerware
- Shopping opportunities abound!
- Northern Thai Khantoke Evening meal. Fantastic restaurant, features Northern Thai delicacies with a cultural show.
- After the meal we will take you to the world famous Chiang Mai Night Bazaar. Shoppers delight!
Availability: - Available daily.
Private Tours and Non-Private Group Tours
Departs from: Chiang Mai
Suitable for all. Minimal exercise involved.
Itinerary:

9.00am - 10.30am
Visit two old temples located in the centre of the Old City of Chiang Mai.
Wat Phra Singh
, a beautiful temple which houses an important and famous Buddha image.

And Wat Chedi Luang. This temple complex contains a very large and venerable chedi (stupa) . It is now in partial ruins, damaged by a 16th century earthquake.

10.30am - 1pm
Drive about 40mins up to the Doi Suthep Mountain Temple. Enjoy both this highly revered temple and views across Chiang Mai.

1pm - 2pm Lunch
Drive down to the foot of Doi Suthep to the Huan Huay Kaew restautant. Great Thai food and picturesque natural surroundings.

2pm - 5pm
We'll drive to San Kamphaeng area famous for it's villages specialising in traditional Northern Thai handicrafts. During the afternoon we will stop at a place producing silk ...


...
the famous Bo Sang Umbrella / Parasol making village ..

... lacquerware production, and more, time-permitting.
5.30 - 6.30 Back to your hotel / guest house to freshen up and change.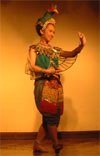 6.30 - 9.30 Khantoke Dinner
with cutural show at the
Old Chiangmai Cultural Center
.
A khantoke dinner consists of Northern Thai delicacies eaten in the traditional way from a circular rattan tray.
After the show has finished we will either take you to the Night Bazaar or return you to your hotel / guest house.
The night bazaar is full of eager sellers, and lots of bargains for the discerning shopper.
Non-Private Group Tours - price from Chiang Mai
Rate per person in Thai Baht
2695
(Minimum of 2 people signing up to this tour on any day - Maximum 8 people per guide)
Private Tours - price from Chiang Mai - (Just you and your friends/ family)
Number in group

Rate per person in Thai Baht

6+

2395

5

2495

4

2695

3

2945

2

3545

1

5195
Price Includes
- Transport from your central Chiang Mai Hotel or Guest House in an air-conditioned minibus / minivan in the morning. If your accommodation is far from the centre of Chiang Mai there may be an additional charge for transport. This will be confirmed when you inform us of your pick-up location.
- All daytime transport
- English speaking, experienced, friendly, knowledgeable and officially registered guide. (maximum of 8 people per guide)
- Entrance fees / Donations to Wat Phra Singh and Wat Chedi Luang
- Entrance to Doi Suthep temple.
- Thai and Northern Thai Lunch at Huan Huay Haew restuaurant, (please specify any special food requirements when booking, thanks). This will be a set meal.
- Khantoke meal and cultural show - Please note that it is possible to have a meal other that the set meal at the Khantoke dinner but it will be charged additionally.

Price does not include
- Funicular / Cable car ride up to Doi Suthep - this is a short trip which is an alternative for those who can't / don't want to take the steps.
- Any food at the Khantoke dinner other than the standard set meal
- The guide will not stay with you at the night bazaar
- If you choose to go to the night bazaar at the end of the day you will need to arrange your own transport back to your accommodation. The guide will advise.
- Insurance - please make sure that you are adequately covered.
- Drinks.
- Tips.

Booking & Payment
Please click the link below for our booking form. We will then confirm availability, and forward details of how to pay.

If the form is not working for you please email :

service@chiangdao.com